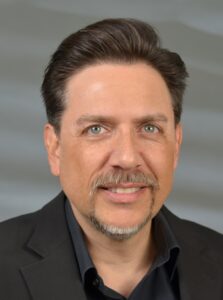 Erik Morales
MUSICAL DIRECTOR
Erik Morales is an American composer, conductor and trumpeter. He has composed best-selling music for many types of genres including classical, jazz, commercial. With over one hundred and fifty publications his musical works encompass a large variety of styles and settings, including works for wind, orchestral, jazz and chamber ensembles and have been part of featured performances across the globe. He studied composition at Florida International University, and completed his bachelor's degree at the University of Louisiana, Lafayette in 1989.
His composing career began shortly after graduation from high school in south Florida when his former band director offered to pay him to arrange music for the marching band (1985). This inevitably led to more music arranging jobs and would open doors to the educational music publishing industry. In 2002 Mr. Morales signed an exclusive contract with the FJH Music Company for his educational wind and string works. With trumpet as his primary instrument, Mr. Morales has made a substantial contribution to the trumpet music repertoire. As a performer Mr. Morales was a finalist in the 1990 International Trumpet Guild solo competition which features the brightest young trumpeters in the world.
Morales is an outspoken advocate of music education in our schools and community. In 2016 he was inducted into the Louisiana Association for Jazz Education's Hall of Fame and was presented a lifetime achievement award for dedication, support, advancement and continuance of jazz education in the state of Louisiana. In 2020 Mr. Morales was appointed musical director of the newly formed Covington Concert Band and currently is conductor of this community-based music project. In 2022 he was instrumental in forming the Northshore Music Alliance, a non-profit organization with the goal of promoting concert and jazz music in the Northshore region of Southeastern Louisiana. Mr. Morales currently serves as president of that organization. Also, in 2022, he was awarded the St. Tammany Parish President's Musical Artist of the Year award for his musical contributions to the local community. Additionally, Mr. Morales is currently a member of the American Society of Composers, Authors and Publishers (ASCAP), Jazz Education Network (JEN) and the International Trumpet Guild (ITG).
Currently, Mr. Morales maintains an active composing, performing and conducting schedule. Mr. Morales' works are published by The FJH Music Company, Inc. and Alfred Publishing. All of Mr. Morales' trumpet and chamber music editions are self-published and are available exclusively through MoralesMusic.com.